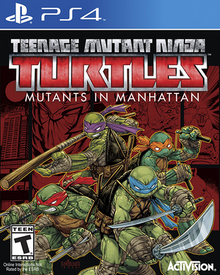 Teenage Mutant Ninja Turtles: Mutants in Manhattan
is an action hack and slash video game based on the Teenage Mutant Ninja Turtles franchise developed by PlatinumGames and published by Activision. It was released worldwide for Microsoft Windows, PlayStation 3, PlayStation 4, Xbox 360, and Xbox One on May 24, 2016.
Cast
Ad blocker interference detected!
Wikia is a free-to-use site that makes money from advertising. We have a modified experience for viewers using ad blockers

Wikia is not accessible if you've made further modifications. Remove the custom ad blocker rule(s) and the page will load as expected.