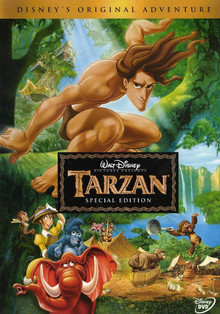 Tarzan
is a 1999 American animated musical adventure film produced by Walt Disney Feature Animation and released by Walt Disney Pictures on June 18, 1999. The 37th film in the Walt Disney Animated Classics, it is based on the story Tarzan of the Apes by Edgar Rice Burroughs.
It was the last bona fide hit before the Disney slump of the early 2000s grossing $171,091,819 domestically and $448,191,819 worldwide. At the time of its release, its production budget of $130 million made it the most expensive animated film ever made at the time.
Voice Cast
Additional Voices
Ad blocker interference detected!
Wikia is a free-to-use site that makes money from advertising. We have a modified experience for viewers using ad blockers

Wikia is not accessible if you've made further modifications. Remove the custom ad blocker rule(s) and the page will load as expected.