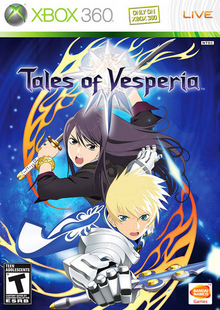 Tales of Vesperia
(テイルズ オブ ヴェスペリア) is the tenth main title in the Tales series of video games. It was developed by Namco Tales Studio and published by Namco Bandai Games for the Xbox 360. The game was released on August 7, 2008 in Asia, and on August 26, 2008 in North America.
English Voice Cast (Uncredited)
Ad blocker interference detected!
Wikia is a free-to-use site that makes money from advertising. We have a modified experience for viewers using ad blockers

Wikia is not accessible if you've made further modifications. Remove the custom ad blocker rule(s) and the page will load as expected.