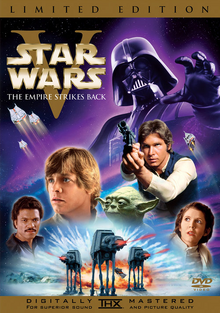 Star Wars Episode V: The Empire Strikes Back
is a 1980 American epic space opera film directed by Irvin Kershner, produced by Gary Kurtz, and written by Leigh Brackett and Lawrence Kasdan, with George Lucas writing the film's story and serving as executive producer. It was released on May 21, 1980, and initially received mixed reviews from critics, although it has since grown in esteem, becoming the most critically acclaimed chapter in the Star Wars saga and is considered one of the greatest films ever made. In 2010, the film was selected for preservation in the National Film Registry by the Library of Congress for being "culturally, historically, and aesthetically significant."
The film stars: Mark Hamill as Luke Skywalker, Harrison Ford as Han Solo, Carrie Fisher as Princess Leia, Billy Dee Williams as Lando Calrissian, Anthony Daniels as C-3PO.
Voice Cast
ADR Loop Group (Uncredited)
ADR Loop Group (Uncredited - 2004 Special Edition)
Ad blocker interference detected!
Wikia is a free-to-use site that makes money from advertising. We have a modified experience for viewers using ad blockers

Wikia is not accessible if you've made further modifications. Remove the custom ad blocker rule(s) and the page will load as expected.