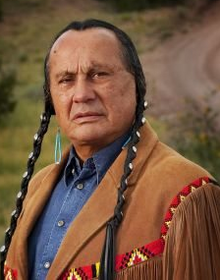 Russell Charles Means
(November 10, 1939 – October 22, 2012) was an American Oglala Lakota activist for the rights of Native American people and libertarian political activist. He became a prominent member of the American Indian Movement (AIM) after joining the organization in 1968, and helped organize notable events that attracted national and international media coverage.
He's known for voicing; Chief Powhatan in Walt Disney Pictures Pocahontas.
Animation Voice Work
Animation
Direct-to-Video Movies
Movies
Trivia
Number of VA titles on this wiki: (3)
Years active on this wiki: 1995-2008.
He was credited in Pocahontas II: Journey to a New World, but his role of Chief Powhatan was instead voiced by Jim Cummings who provided his singing voice in the first installment.
Ad blocker interference detected!
Wikia is a free-to-use site that makes money from advertising. We have a modified experience for viewers using ad blockers

Wikia is not accessible if you've made further modifications. Remove the custom ad blocker rule(s) and the page will load as expected.