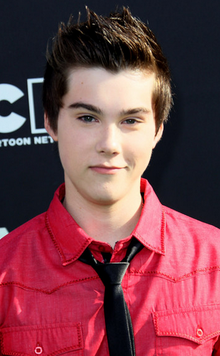 Jeremy Shada
(born January 21, 1997 in Boise, Idaho, USA) is an American actor and singer. He's the brother of voice actors
Josh Shada
and
Zack Shada
.
He's known for voicing: Finn in Adventure Time.
Animation Voice Work
Animation
Adventure Time (2010-2016) - Finn, Baby Bird (ep16), Bagelman (ep7), Beaver (ep22), Bird Babies (ep84), Business Man#2 (ep4), Cosmic Owl (ep2), Crystal Guardian Finn (ep2), Cyclops (ep7), Fat Man (ep5), Finn Sword (ep130), Gorflax (ep9), Guy#2 (ep7), Ice Cream Man (ep1), Ice Finn (ep122), Lady Slug (ep16), Lil Turtle P (ep55), Mini Queen (ep13), Mushroom (ep5), Nurse (ep18), Princess Beautiful (ep19), Simon (ep19), Snake (ep12), Snow Monster#3 (ep2), Soft Person#6 (ep13), Spiky Guard#1 (ep13), Squirrel (ep10), Squirrel (ep62), Tree Man (ep9), Additional Voices
Batman: The Brave and the Bold (2009-2011) - Robin, Young Robin (ep32)
Direct-to-Video Movies
Movies
TV Specials
Live-Action Voice Work
Movies
Video Games
Video Games
Trivia
Number of VA titles on this wiki: (24)
Years active on this wiki: 2004-2018.