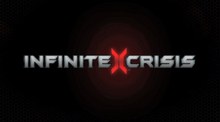 Infinite Crisis
was a free-to-play multiplayer online battle arena (MOBA) video game based on the fictional universe of DC Comics (DC Universe). Developed by Turbine and published by Warner Bros. Interactive Entertainment. It will be Turbine's first original title since the company's purchase by Warner Brothers in 2010, and the first non-MMORPG game produced by the studio. Infinite Crisis began closed beta testing in May 8, 2013. As of August 14, 2015, Infinite Crisis and its servers are shut down.
Voice Over Talent
Additional Voices (Uncredited)
Sources
Ad blocker interference detected!
Wikia is a free-to-use site that makes money from advertising. We have a modified experience for viewers using ad blockers

Wikia is not accessible if you've made further modifications. Remove the custom ad blocker rule(s) and the page will load as expected.