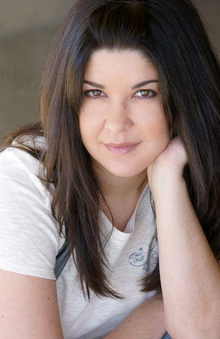 Colleen Smith Clinkenbeard
(born April 13, 1980 in Shreveport, Louisiana) is an American ADR director, ADR script writer, line producer and voice actress. She's married to voice actor
Patric Carroll
.
She's known for voicing: Erza Scarlet in Fairy Tail, Gohan in Dragon Ball Z Kai, Monkey D. Luffy in One Piece, Rachel Moore in Case Closed, Riza Hawkeye in Fullmetal Alchemist and Fullmetal Alchemist: Brotherhood and Yuko Ichihara in xxxHolic.
Anime Voice Work
Anime - Dubbing
Anime Shorts - Dubbing
Movies - Dubbing
OVA - Dubbing
Web Anime - Dubbing
Video Games
Video Games
Video Games - Dubbing
Trivia
Number of VA titles on this wiki: (120)
Number of VA Dubbing titles on this wiki: (105)
Years active on this wiki: 2004-2017.
Ad blocker interference detected!
Wikia is a free-to-use site that makes money from advertising. We have a modified experience for viewers using ad blockers

Wikia is not accessible if you've made further modifications. Remove the custom ad blocker rule(s) and the page will load as expected.