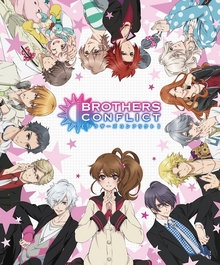 Brothers Conflict
(ブラザーズ コンフリクト) is an anime based on the Japanese novel series created by Atsuko Kanase. The anime originally aired in Japan for 12 episodes between July 2, 2013 and September 17, 2013, with an extra episode released on the DVD-release. It was released on Blu-Ray and DVD on March 8, 2016.
English Dub Cast
Main Cast
Secondary Cast
Minor Cast
Additional Voices
Ad blocker interference detected!
Wikia is a free-to-use site that makes money from advertising. We have a modified experience for viewers using ad blockers

Wikia is not accessible if you've made further modifications. Remove the custom ad blocker rule(s) and the page will load as expected.