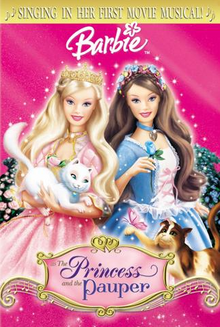 Barbie as The Princess and the Pauper
is a 2004 direct-to-video computer animated Barbie film and the first musical in the Barbie film series. It was directed by William Lau. The story is loosely inspired by the Mark Twain novel The Prince and the Pauper. The film was released on September 28, 2004 by Artisan Entertainment.
Starring the Voices of
Ad blocker interference detected!
Wikia is a free-to-use site that makes money from advertising. We have a modified experience for viewers using ad blockers

Wikia is not accessible if you've made further modifications. Remove the custom ad blocker rule(s) and the page will load as expected.